Born around 1615, Giovanni (or Giovan) Pietro Bellori was a friend of Poussin, he knew the painter after he returned to Rome in 1642.
In 1664 he delivered a speech on the Ideal in Art, at a conference at the Academy of St. Luke in Rome, the text of which became the preface of his work, Vite.
As a theorist of new classicism, the painter should not imitate him by nature, but rather provide a corrected image, ennobled by the idea of ​​beauty that it has created.
In 1672 he published Vite (Lives), his major work, "Lives of the modern painters, sculptors and architects" which included the "Vita di Nicolo Pussino", the first biography of Poussin.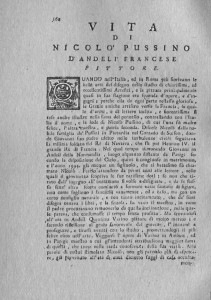 It describes his compositions in great detail and gives a living impression of the life of Poussin in Rome.
Further reading:
• Vite can be viewed on Google Books (in Italian) : Tome I, Tome II, Tome III