Guy de Compiegne, Varulv editions, 2013
Watch Guy de Compiegne presenting his book (in French) at The Tuileries Gardens bookstore, on June 5th 2014.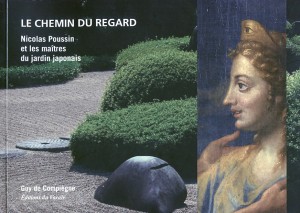 The painting of Nicolas Poussin and the Japanese garden of Zen Buddhism have always been and are still, independently, a source of fascination.
To elaborate the ideal landscape, Poussin and Zen masters use similar tricks that move us beyond the visual pleasure and provide subjects of philosophical thoughts.
This observation led Guy de Compiegne to make a link between these artists, despite the complete lack of historical or geographical connections.
Beyond his subjective reading the author relies on what constitutes visual perception to guide us through the setting of the painting or through the one shaped by the Japanese temple veranda. By revealing the similarities of composition and subject, the author shares with us the reasons for his passion for visual emotion.