The Louvre Museum, Richelieu wing, 2d floor, room 14
Oil on canvas , 160 x 221 cm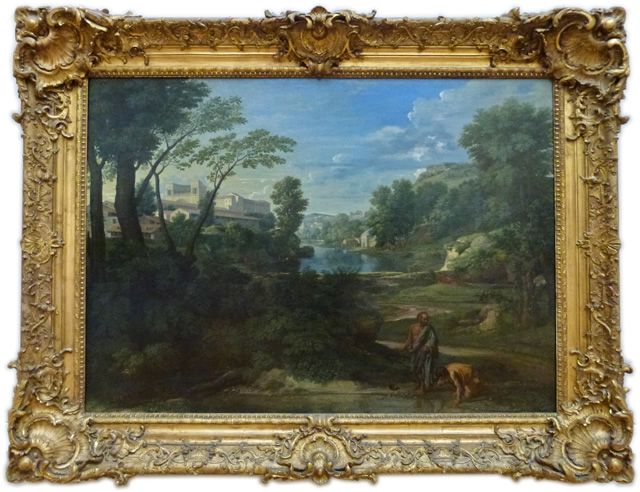 Among the most majestic landscapes of the 17th century
For Pierre Rosenberg « The work is among the most majestic landscapes of the XVIIth century. The beauty and variety of blues and greens, the masterly layering of the planes, the skillful articulation of the buildings, abundant vegetation, water and cloudy sky, and the quality of the reflections in the water present themselves to the eye like so many discoveries, perceived successively and with pleasure.»
Dated circa 1657 rather than 1648
The canvas has been identified as the "large landscape where Diogenes broke his bowl" mentioned by Felibien as painted in 1648. Denis Mahon, from 1961 and in 1995, proved that the painting was actually ordered by the duke de Richelieu around 1657, before he asked Poussin to paint the Four Seasons series.
His theory has been supported by Friedlaender and many other Poussin' specialists, like Pierre Rosenberg, who eventually came to it.
A painting seen in another painting
The Landscape with Diogenes is seen in the famous Gallery of the Louvre painted in 1831 by Samuel Morse.
Details of the work :
Below a 1701 print by French engraver Etienne Baudet from Poussin's masterpiece: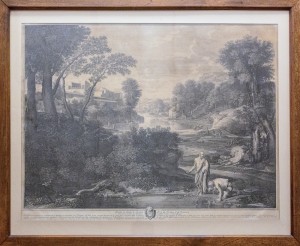 Description of this print from the British Museum: "Landscape with, in the foreground, Diogenes watching a young man drinking with a cupped hand from a pond; the philosopher's cup, now considered useless, lies at his feet; in the background, lake and classical buildings; Louis XIV's coat of arms in lower margin."