The Louvre Museum, Richelieu wing, 2d floor, room 14
Oil on canvas, 85 x 121 cm
Poussin painted this subject twice; this is the second version, more austere, which still relates to the discovery of a tomb on which is engraved with the epitaph "Et in Arcadia Ego" in the wilderness by shepherds. It is subject to many interpretations, depending on whether the words relate to Death, the body in the tomb, the Beauty…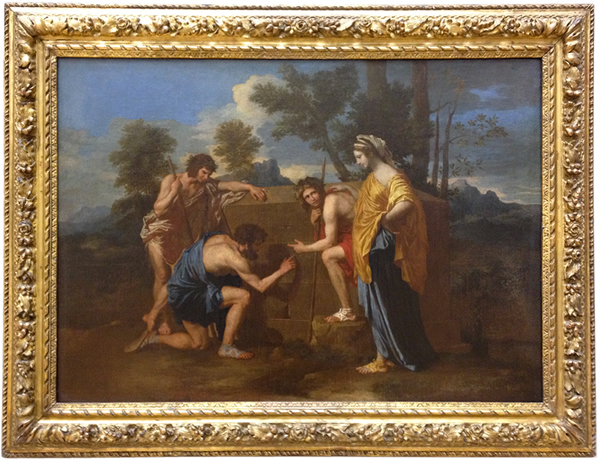 A sponsor and a story still uncertain
The sponsorship of the painting and its story before 1685, when it was acquired by Louis XIV, are still uncertain.
The canvas was inspired, for Bellori, by the cardinal Rospigliosi, future pope Clement IX. Was he really the sponsor of the work? He is at least said to have suggested to Poussin the idea of a thought on death, on the tomb and on time.
The painting later belonged to Henri Avice, military engineer, before entering Louis XIV collections.
A dating of creation debated
The dating of this second version of the Arcadian Shepherds has been discussed for a long time, but the work is now considered as painted circa 1640. Pierre Rosenberg, in the 1994 exhibition's catalog, writes: "we agree today to consider it as produced shortly before the leaving to Paris in 1640, around 1638. The comparison with the 1638 Moses Saved from the Water, the monumentality of the figures arranged as sculptures, the landscape design, the very spirit of the painting, all this leads one to accept that date without any reserve, in all cases to refuse any dating subsequent to the return to Rome." [translated]
Many interpretations
Bellori's description of the painting:
"The third moral poetry is dedicated to the memory of Death among human prosperity. He faked a pastor of the joyful Arcadia, one knee on the ground, showing and reading a tomb's inscription, where these words are inscribed: et in Arcadia ego. Thus the tomb is in Arcadia, and death comes amid bliss. Behind is a garlanded young man, leaning on the tomb and watching, attentive and meditating, and another one in front of him bows and shows the written words to a beautiful Nymph lightly dressed, who holds her hand on his shoulder and looks and retains her laugh, abandoning herself to the thought of death."
For Théophile Gaultier (1811-1872), the painting of The Arcadian Shepherds expresses the naïve melancholic brevity of life and reveals the forgotten idea of ​​death among the shepherd boys and the girl watching the tomb found in the countryside.
The work has been studied by numerous authors and Art historians, notably by Erwin Panofsky, fascinated by the theme of Arcadia, in 1936 and in his essay "Et In Arcadia Ego: Poussin and The Elegiac tradition" published in 1957.
Below is a detail of the work :